C-2500 MC+ Open Width Compactor
Building on the success and history of the previous model compactors, the Navis TubeTex C-2500 MC+ is continuing to make history. The Navis TubeTex C-2500 MC+ provides total control of shrinkage, yield and width. The Navis C-2500 MC+ can produce residual length shrinkage values down to 3% and below by tumble dry testing on Cotton, Viscose, Lycra, and many other high fashion blends. The C-2500 MC+ incorporates many engineering breakthroughs that translate to faster change over for fabric styles and higher quality finishing while reducing running cost.
The machine will produce high quality outerwear and apparel knit fabrics with a softer hand, superior shrinkage control, width control, and yield control. An optional Automatic Width Control and Automatic Stitch Control devices are available for further ease of operation.
Compaction Rates up to 25%

Next Generation Advanced Roll Technologies

Sensitive Fabric Entry System

Enhanced Edge Decurling Ability

Comprehensive Steaming System

New Generation Oil Heating System

Reduced Carbon Footprint by 20%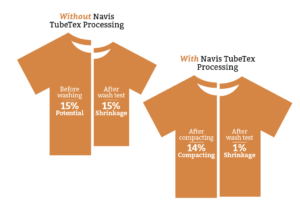 Compacting Principle
The compaction section uses two rolls and one heated shoe to present the fabric into the compaction zone. A feed roll overfeeds fabric while the slower retard roll holds the fabric in the compaction zone. By decreasing the retard roll speeds, the machine operator can reduce the length shrinkage and increase compaction to 25% and more.
Fabric Width Control – Bilateral Spreader
Fabric width is controlled just prior to entering the compaction zone by the Bilateral Spreader. The Bilateral Spreader maintains fabric width by opening and closing via input by an operator selectable width sensors.
New Generation Oil Heating System
The Recirculating Oil heating system uses plant steam to heat a closed loop to heat the shoe and feed roll. Separate control loops for the feed roll and shoe ensure that each loop maintains uniform temperature. The closed-loop oil heating system setup is environmentally safe and efficient.
Pin Tenter Entry (Option)
When the process requires, Navis TubeTex can add aPin Tenter Entry.
• 9 meter (30 feet) Pin Tenter Entry