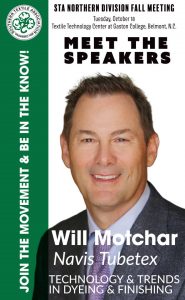 The Southern Textile Association (STA) Northern Division Fall Meeting will take place Tuesday, October 18 from 1-4:30 p.m. at the Textile Technology Center at Gaston College, Kimbrell Campus, Belmont, N.C. A networking reception will follow.
Speakers include William Motchar, president & CEO of Navis TubeTex, #Lexington, N.C., who will speak on "Technology & Trends in Dyeing & Finishing." After graduating Illinois State University (Business Administration) in 1985, Motchar spent 13 years in progressing responsibilities in sales, marketing and global business unit management with National Starch & Chemical Company. During this time Will also earned an M.B.A. from Wake Forest University.
Motchar joined Navis TubeTex in 1998 as vice president, Global Sales & Marketing. In 2005, he was promoted to president and CEO. In 2011, he purchased the company from the private equity group that owned Navis.
Founded in 1929, Navis is the leading finishing machinery supplier to the global textile industry. Navis designs, engineers, and manufactures high-tech machinery for the global knit, woven, nonwoven, technical and geotextile industries. Navis has sales and service offices in over 60 countries with manufacturing facilities in the U.S. and Taiwan.
Motchar is also a past chairman and member of the Board of Directors of the American Textile Machinery Association (ATMA). Additionally, he serves on the advisory board for the College of Business at Illinois State University. Motchar was inducted into the Illinois State University College of Business Hall of Fame in 2017.  The 114-year-old STA boasts a membership of more than 500 professionals throughout the U.S. textile supply chain. The association meets seven times a year in the Carolinas for networking and educational sessions and, at $100 per year to become a member, it's the "best deal in town," said STA President Cameron Hamrick, president of Hamrick Mills. More information and to register, https://conta.cc/3qR6dRz.
Editor
E textile communications