ALL NEW N-Dura STENTER
High Speed, High Pull, Robust Design, Energy Efficient, Easily Maintained, Long Life, Un-matched Customer Service are synonymous with the Marshall & Williams name.
Since its beginning, M&W is well known for building stenters that are both robust and durable under the most adverse conditions. While running the fastest speeds with minimal energy consumption.
In 2000, M&W became part of the Navis TubeTex Group. Before the acquisition, they frequently partnered on larger projects.
Stenter Chain & Rail Systems
Stenter Technologies
The Series 2000 is the leading M&W chain system. It incorporates over 90 years of tenter chain experience with the latest metal, plastic, manufacturing and lubrication technologies.
Features of the design:
Speeds up to 200 m/m; Loads 25N/mm+
Only requires periodic lubrication (~8000 hour intervals). Lubrication performed on machine (<8hrs)
High temperature engineered plastic chain bushings for longer life than competitive designs.
Available in Clip, Pin or Combination versions
Clip top knife & plate matched using a proprietary process.
Operates with Low Maintenance Series 2000 Rails

Series 2000 Rail Section
The 2000 rail system is the industries most robust rail system. It is designed for millions of meters /
years of trouble free / low maintenance operations. Details of the system:
Web pull supported by ball bearing rolling on a spring steel surface. Rolling action uses less
Power & reduces wear. Spring steel surface designed for life of rails. Flexible Spring steel hinges at each joint ensure smooth rail to rail transition.
Rail constructed from laser cut plate and extruded shapes. This techniques ensures dimensional stability through years of thermal cycles. This stability prevents pre-mature chain and rail wear.
Weight of chain supported by carbon, lubrication free, wear strips.
Chain Lube Port patented design allows for grease to be added directly to bearing.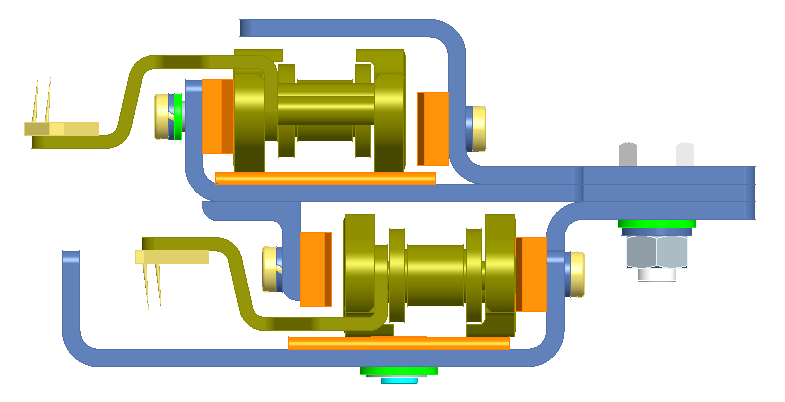 P5 Vertical Pin Chain & Rails
The P5 pin chain is the answer to applications requiring vertical pinning systems. Web control is maintained at even the highest overfeed rates because of the vertical design.
The chain is manufactured using a unique power metal technology. Using powder metal gives an extremely straight pin line, precision lubrication passages and a high strength chain.
Speeds up to 100 m/m
Requires minimal lubrication
Low Profile design for minimum nozzle to fabric distance.
No replaceable wear pads.
Rail system protects chain and pins on the return path.
Formed sheet steel rails prevent oil leakage to floor or surroundings.
Hard Aluminum Bronze wear surfaces are designed for the life of the rails.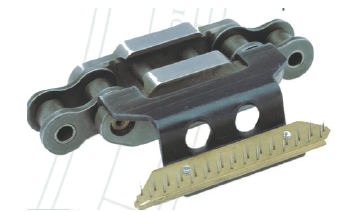 Overfeed Pinning Systems
Proper pinning is the key to successful overfeed and yield control. Available options:
Belt type or nip type pin-on system
Pneumatically actuated pinning roll for easy set-up.
Driven and fixed style center cloth supports
Steaming systems
Adjustable tangency scroll rolls
Skew/Tilt roll
Individually adjustable draw rolls.
Plate type or Finger type selvedge uncurlers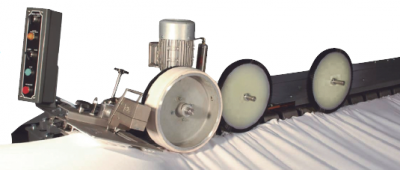 The N-Dura Dryer was developed by engineers using the latest thermal & aerodynamic modeling techniques to optimize air flow patterns and heat distribution; concurrently, industrial designers developed a structure that was easy to install, operate and maintain.
Performance Features:
Unique Nozzle design using CFD Analysis optimizes velocity and uniformity while minimizing power requirements.
Housing losses 43% less than conventional designs. Heat radiation to room is minimized.
All wired & piped components (fans, burners, motors, coils) are located on same side of dryer minimizing floor space, providing easy access for cleaning, and facilitating easy installation and troubleshooting.
Heat Recovery (internal and stand alone) systems available. Savings are process dependent.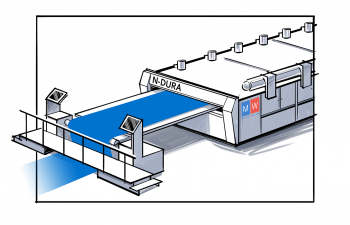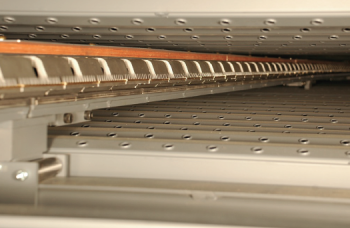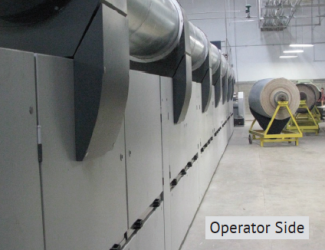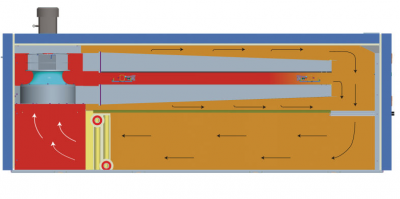 Filter Cleaning & Access
Individually removable nozzles with clean-out doors.
Large Return air filters cleaned while in operation. Frequency is process dependent.
Duplex filters ensure process air is filtered during cleaning.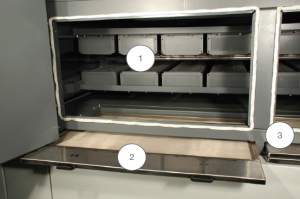 Width Adjustment System
Direct coupled gear motors outside of dryer eliminate maintenance problems with chains and sprockets. Rails positioned to preset width (recipe or operator selectable).
Position Sensor displays rail location at each joint and eliminates damage caused by extreme rail angles.
Precision saddles support rails from tipping caused by pull forces and web close to nozzles for efficient heating and drying.
Width Adjustment screws below support beam prevent contamination of web.
Width adjustment mechanism easily accessed for maintenance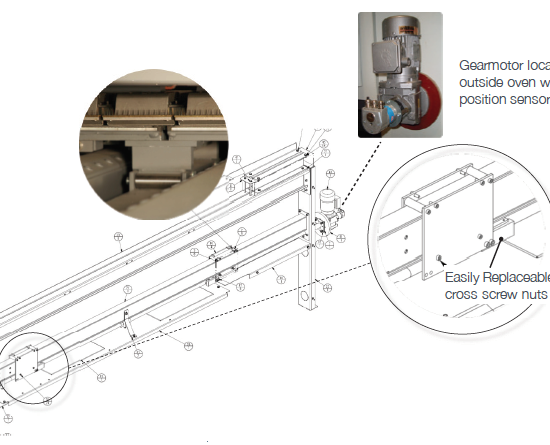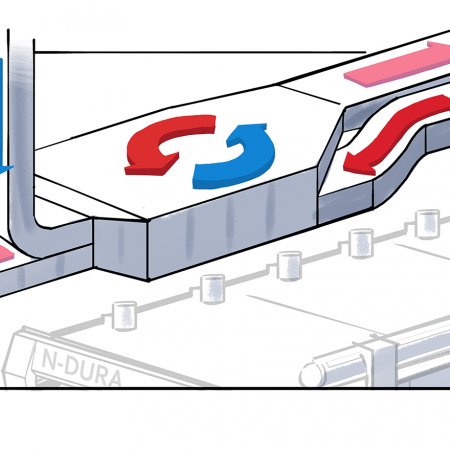 Heat Recovery
M&W offers both integrated and stand-alone heat recovery systems for the N-Dura Stenter. Payback is often less than 1 year based on processing parameters and utility costs. Typical design returns heated make-up air to the dryer. External systems for heating water or air used elsewhere are available.
For exact machine solutions or special processes, contact Navis Global. Our team of technical engineers and process specialists are industry leaders in providing manufacturing solutions.