The M& W P5V Stenter is specially designed for processing nonwoven and knitted fabircs for cotton, cotton/lycra blends, blends of synthetics, and 100% synthetics for weft and warp knits.
The M&W P5V Stenter is a high performance machine designed for extracting, chemical applications, drying, curing and heat setting materials
The difference is in the details.
Benefits
Maximum Efficiency
Highest Productivity
Superior Quality
Easy Operation and Maintenance
Maximize Energy Savings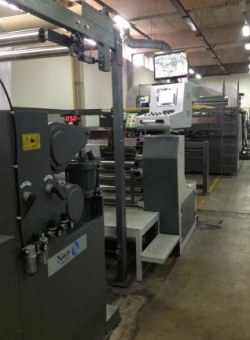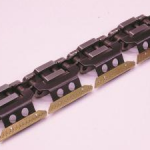 P5 Vertical Stenter Chain
Tenter Chain P5V – The P5V chain is made of a high strength metal alloy to eliminate chain wear.
The chain is suitable for high speeds and maintains a very straight pin line. Heavy-duty brass pin plates are included.
Advanced Automatic Chain Lubrication system eliminates oil contamination and reduces oil usage.
Air Circulation System – Oven and Dryer
The M&W P5V Stenter's specially engineered drying/curing chambers provide precise control of the process air. Two fans feed the upper and lower nozzles. Equi-Flow Nozzle design ensures uniform nozzle velocity on both faces and can be optimized for any fabric characteristic.
Additional performance features and benefits include:
Super-energy-efficient Oven Panels
Superior Panel Sealing
Lower Air Volume
Easy Cross-member and Spindle Maintenance
Automatic Air Locks – exit and entry
Integrated Heat Recovery System
Energy Saving Systems
Lower-profile and straighter air paths translate into a more efficient operation
Dual primary and secondary lint screens allow machine cleaning during operation
Integrated Heat Recovery System
Easy-access exhaust and make-up air ducts capture heat that normally would be lost, saving energy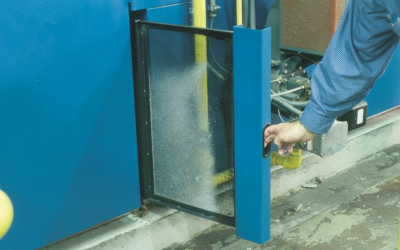 Dual primary and secondary lint screens allow machine cleaning during operation.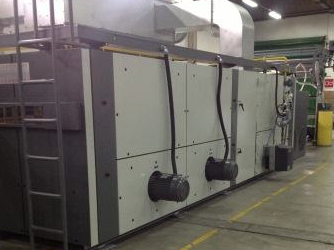 Two Fans per 3 m zone and Heavy Insulated Panels for Maximum Efficiency
Stenter Air flow showing the Heat Exchanger position (steam or hot oil), Nozzles, Fans, and Exhaust openings.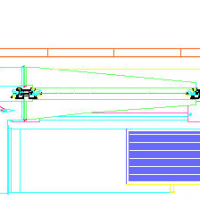 Stenter Air flow showing the Gas Burner position, Nozzles, Fans, and Exhaust openings.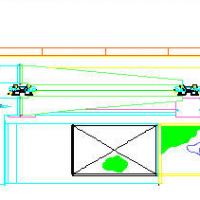 Navis Compass Control Center
The Navis Compass system is the master control center for the entire range, and features a completely redesigned operator interface. Using the latest PLCs, digital drives, control software and color touch screens, Navis Compass is packed with precise control features, yet is easy to learn and intuitive to operate.
Using multilingual, icon-based touch screens, the operator can perform all range functions, including:
Basic controls that ensure optimal drying and curing precision for differing fabrics
Alarm annunciation
Recipe functions
Password-protected maintenance for detailed modifications and periodic testing
Remote/in-factory troubleshooting via modem or LAN
Observation of material exit with color monitor/camera system.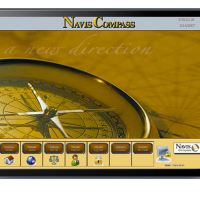 TM 2 Roll Pad
Stenter ranges can be equipped with 2 Roll or 4 Roll Pad configurations. the TM 2 Roll Pad is a standard 10 ton pad for extraction. With the addition of a second TM 2 Roll Pad, chemical applications with precise pickups are possible.