The precise airflow and temperature control of the Matrix Hot Flue ensures all applications perform as required. The highly efficient insulated panels and precise exhaust control minimize energy usage.
The Matrix Hot Flue both increases dye yield and enhances color development, and simultaneously minimizes off-shade problems. Fabric is laced vertically over thick walled rolls and sized to each specific application.
Cooling Zone
Available in a wide range of widths to accommodate different processes, the Navis PlanaTex Cooling Zone is a modular unit that uses plant air to cool the fabric or web after the stenter.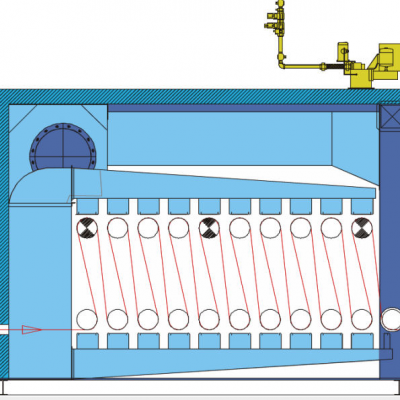 Applications
Drying after dye application – may be combined with Matrix Metal IR Pre-Dryer
Pre-Dryer for thermosoling and condensing
Pad – dry process for thermosoling
Pad – batch
Curing Oven after stenter applications
Additional Features
Advanced nozzle and duct design provide excellent temperature and airflow uniformity
Precise roll alignment eliminates fabric creases
Variable speed circulation fans provide drying flexibility
Full-height access doors for ease of maintenance
Multiple capacities available to optimize processes
Compatible with the Navis Compass Control System to manage dwell time and reduce energy consumption