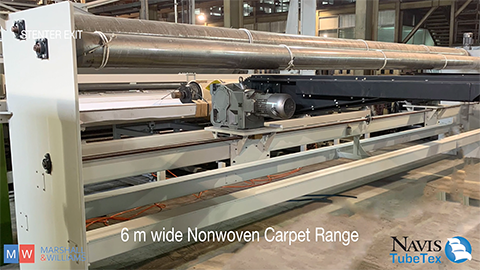 Navis Tubetex announced today the shipment of a 6-meter wide nonwovens machine serving the automotive marketplace. The line, designed and manufactured by its M&W group, comprises tenter with dryer, accumulation, inline inspection, rewind section and includes a sophisticated integrated controls package.
Navis Tubetex is extremely excited to be launching this 6 meter wide machine to meet our customers production requirements, and in leading the range of large-width products serving the automotive industry.  Will Motchar, President and CEO of Navis TubeTex stated, " The M&W group is fully immersed in developing new technologies and highlights the changing face of textile manufacturing."
The 6m line runs a wide range of nonwoven goods.  This is a game changer for wider production runs and in turn, waste reduction.
Other groups within the Navis Tubetex organization are currently engineering complementary, wide-format machinery especially for nonwoven production. The launch is expected in the first Quarter of 2020.
Motchar added "Meeting our customers' needs in designing innovative machinery, underscores our mission to leverage our technology for improved manufacturing processes and operations."
This equipment like all Navis Tubetex products is Industry 4.0 compliant