Patented Technology!
Lexington, NC – October, 20, 2015. Navis TubeTex, a leading supplier of high technology finishing machinery to the global textile industry has announced the launch of an all new technology for controlling spirality in knit fabrics. Also referred to as "torque", spirality is one of the most difficult challenges in finishing knit fabrics. Common problems associated with spirality are lay-up twisting, cutting misalignment, mismatched patterns, sewing problems, shifting side seams, garment distortions, and print or stripe movement after sewing.
The Navis TubeTex Spirality Control System (SCS) is a patented technology originally developed by Geo Energy Solutions P.C. Navis TubeTex and GEO have formed a partnership to market the current technology as well as work together on future improvements and new technologies. Navis TubeTex will be responsible for all worldwide sales, marketing, installation, spare parts, and after sales service. Navis TubeTex President and CEO Will Motchar commented "We are very excited to launch this new technology to the industry. It is one of the most significant developments for finishing knit fabrics in many years. This process absolutely fixes one of the most difficult problems faced by manufacturers. The technology is proven with machines running in production for over a year now".
How SCS controls spirality
The patented SCS technology utilizes a specially designed correction chamber and sophisticated control parameters. Information for a given fabric's spirality percentage, direction of rotation, and tubular width is input and the SCS's control system, using sophisticated and proprietary algorithms, will impart the correct amount and direction of correction to control spirality.
The correction chamber is designed to give correction to the tube with very limited friction to prevent any damage to the finished fabric. A "hole" detection safety shut-off is included to prevent damage to the fabric or machine.[/vc_column_text][/vc_column][/vc_row]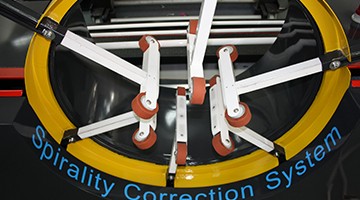 Key Features using the SCS:
Controlled Spirality to meet Quality Standards
Spirality Correction to less than 4% after Processing
Stable Correction
Works on all Tubular Knitted Fabrics
Efficient and Automatic Operation for Correction
Reduce Sewing and Cutting Problems from Spirality
The SCS machine will be on display at the Navis TubeTex booth at ITMA 2015 in Milan, Italy from November 12-19 located in Hall 14 Booth D104.